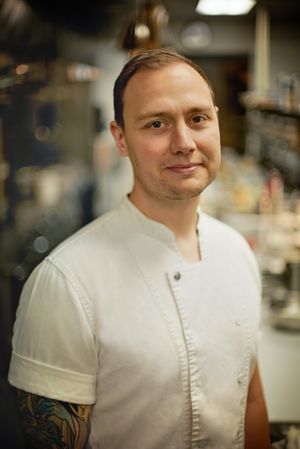 Travis Petosa
Executive Chef
Travis Petosa comes to Le Politique after five years of restaurant experience on the West Coast. After earning his bachelor's degree in journalism from Central Washington University, Petosa entered the Marine Corps where he learned an unimaginable amount of transferable skills. Petosa was honorably discharged from the Marine Corps in 2009, and soon after began his career in the restaurant industry in Seattle, WA.
In Seattle he worked his way to Sous Chef at The London Plane where he was placed in a position to quickly learn the day-to-day operations, ranging from ordering perishable products to dry goods as well as managing scheduling requirements and recipe costing.
Petosa made a move to LA where he took a job at Petit Trois. Under the mentorship of Will Marquardt, Petosa began honing in on some classic French cooking techniques and expanded his culinary knowledge into a territory of cuisine he had yet to experience. Petosa went on to become Sous Chef at Petit Trois, then at LA restaurants, Trois Mec and Mixed Company.
After his stint in LA, Petosa moved to Austin where he was hired as Sous Chef at Le Politique in 2019. In his role, he managed and trained the back of house crew as well as took the lead on recipe costing, scheduling and maintaining a cohesive bond with the front of house management team. Petosa was quickly promoted to Executive Chef in August of 2019 where he has successfully mixed French technique with a southern comfort style to create a unique dining experience in Downtown Austin.