A French brasserie, patisserie and coffee shop located in downtown Austin.
Translated to 'The Politician,' Le Politique is both a nod to Austin's roots as a capital city and an homage to Texas and French politicians, past & present, who roam these very streets. Specific inspiration was drawn from the Count Dubois de Saligny, a French diplomat known for being quite the rabble-rouser in 19th-century Texas. Vive les pigs!
Amanda Rockman
Culinary Director of New Waterloo
Amanda's interest in the culinary field was inspired by the dinner parties her mom would throw. A graduate of The Culinary Institute of America in Hyde Park, her career took her to Chicago, where she worked at the acclaimed TRU, Spring, three Michelin-starred L.2o, and The Peninsula Hotel. Amanda also opened The Bristol, Balena, and Thompson Hotel's Nico Osteria as Executive Pastry Chef. Amanda returned to Texas in 2015 as Executive Pastry Chef at South Congress Hotel, and was promoted to Corporate Executive Pastry Chef of New Waterloo in 2017. She now serves as the Culinary Director of New Waterloo, acting as a resource and leader to all culinary teams.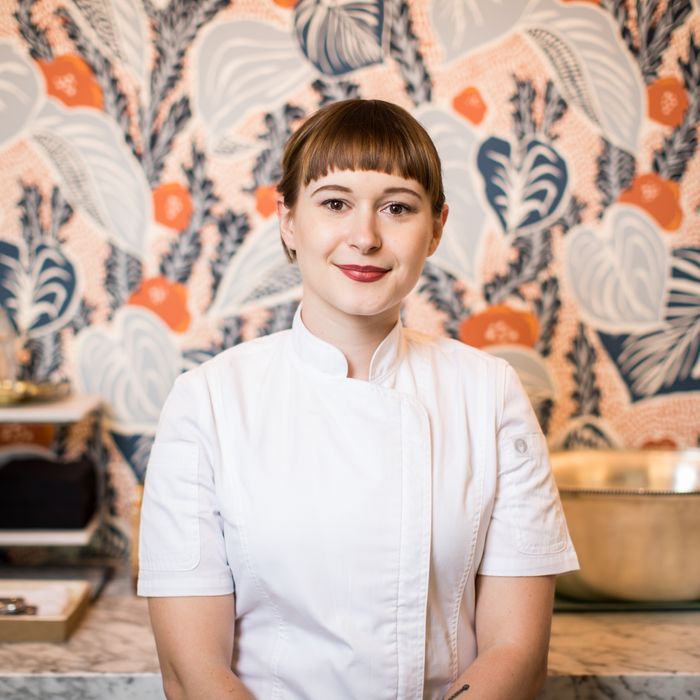 Melissa Carroll
Pastry Chef
Melissa Carroll graduated from the French Culinary Institute in Campbell, California in 2012, before returning to her hometown in O'Fallon, Illinois to work at London Tea Room in downtown St. Louis, Missouri. Her first experience in a professional kitchen, she was named Pastry Chef and led a team of three cooks. She finished her Fine Art degree at Southwestern Illinois College and continued her foray into the culinary world at Peel Wood Fired Pizza in her hometown.
In 2015, Carroll moved to Austin and soon joined the New Waterloo team as a pastry cook at South Congress Hotel under Corporate Executive Pastry Chef Amanda Rockman, a James Beard Foundation Award Semifinalist. Carroll was promoted to Pastry Kitchen Supervisor in December 2016 before transferring to Le Politique in August 2017, where she served as opening Pastry Sous Chef under Alyssa Hurlstone. Carroll was promoted to Pastry Chef of Le Politique in May 2018, overseeing the restaurant's pastry program and adjoining patisserie.
Since coming into her position, she has been nominated for Austin Chronicle's Best Pastry Chef of Austin 2018 and 2019 CultureMap Tastemaker Awards Pastry Chef of the Year. She enjoys striking a balance between sweet and salty flavor profiles in her dishes, and is always seeking the next unique flavor combination that hasn't been done before.